4:46 pm on October 25, 2010 by Karlie Justus
What do you get when you combine delicious burgers with Twitter?
Here in the Triangle, the answer to that equation would be Only Burger, a local food truck that just narrowly missed winning a recent Food Network contest. ("The most delicious lunch hour ever" would also be a viable answer.)
What these trucks lack in terms of brick and mortar, they make up in taste and social media savvy. Jess Redman, Sarah Findle and I – three fourths of the HM&P social media team – always have an eye on Twitter for our clients, which is how we caught that @OnlyBurger would be at a Raleigh office park two weeks ago. In addition to tweeting out its daily stops, foodies can also check in at the different stops on location-based services such as Foursquare.
UNC-TV also dropped by during our lunch visit as part of a story the station was developing around the food truck trend. We took a breather from downing our food to talk about what influence social media has had on the food truck trend: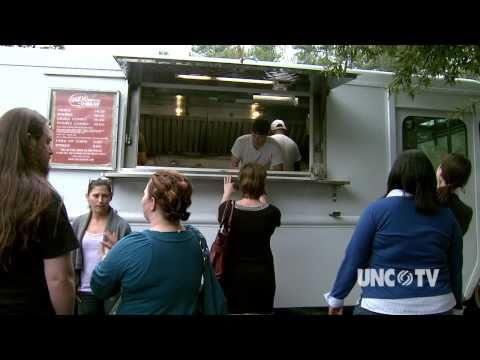 Special thanks to Rob Holliday over at UNC-TV. Follow him on Twitter at @robreports.
9:00 am on April 30, 2010 by Karlie Justus
What's the first thing that comes to your mind when you think about social media – Is it Mashable? Twitter? The latest news (and N.C. sensation) about Apple and its iPhone?
For a growing part of the online community, social media also goes hand in hand with cows and corn. The agriculture industry has embraced online tools such as Twitter chats, Facebook pages and live-blogging to promote the people that take food from the farm to our forks. More »